MagTek Excella & Excella STX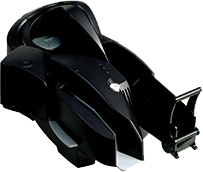 USB: Standard USB 2.0 cable
Serial: NOT Supported by CrossCheck
Ethernet: NOT Supported by CrossCheck
Setup Process for USB cable:
Do NOT plug in the device to the PC just yet. (This allows a smooth install)
Log on www.cross-check.com/logon
Click on either MICR Scan Conversion Plus or Business Office Conversion Plus
License agreement page will show ¹ and a pop-up window needs to happen. The browser must allow pop-ups. If a pop-up is blocked, a pop-up blocker detector should detect this and give a warning. Refresh the page to make the pop-up window appear again.
Within the window, click on Download CrossCheck Excella Setup Installation and install..
Plug the USB cable into the device and the PC. Plug in power supply Part#: DTS240250U-P5P-R/A-ET . Windows should detect the device being plugged and show "Magtek Excella" device detected.
Restart Internet Explorer and log on to www.cross-check.com/logon again and click on either MICR Scan Conversion Plus or Business Office Conversion Plus
Back at the "License Agreement" web page, close the pop-up window.
Choose Excella / Excella STX under Choose Device
Click I Accept
The first ActiveX control will install after approving installation: A CrossCheck FS (file system) Utility created by CrossCheck to allow file renaming and deleting of the scanned images.
The Excella ActiveX control will install next after approving installation. This ActiveX control allows the website to control both the Excella and Excella STX imagers.
Place a check into one of the input trays on the left of the Excella or Excella STX. Click on Start Scanning Checks for a check to pull through the scanner. Enter any necessary test check information². Verify and click "Approve" to begin processing.
Test responses for each check should appear and a new popup window will appear that will upload all images. Install the last ActiveX control: Persits XUpload Control. This will install after approving installation. When the window says "Finished uploading images", this window can be closed. A support rep should verify the image has been received. An image can take up to a minute to show up on CrossCheck's system for a support rep to pull up.
Trouble Shooting:
If receiving an error message communicating with the device, verify the PC meets all system requirements (internet browser, hard drive space, operating system, etc.)
Verify the user has administrative privileges on their PC as this is required. Script errors being reported by the browser usually means they don't have adequate privileges.
Ensure the Excella does not show any red lights or blinking lights. The Excella should have both side latches pressed down (will click in) and all 3 lights should not be blinking and green.
¹ If a device is already configured, the license agreement page will not display. Use the Reconfigure Device link at bottom, then click the Change Device button to go back to the license agreement page.
² Business Office Conversion Plus requires the Bank Route # on the check to be "123456780" in order to issue a test approval. MICR Scan Conversion Plus requires ID State "ZZ" and ID Number of "12345" to issue a test approval.