Prolific USB-to Serial Converter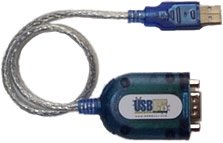 Setup Process:
Do not plug the converter cable into the PC just yet.
Log on www.cross-check.com/logon
Click on either MICR Scan Conversion Plus or Business Office Conversion Plus. Or Approve a Check, then MICR Scan Single Check.
License agreement page will show ¹ and a pop-up window needs to happen.
Click on Download USB-to-Serial Driver
Unzip the downloaded "USB2SerialDriver.zip" and run "PL-2303 Driver Installer.exe" within it.
After the installation finishes, plug in the converter cable. The cable should initialize and be ready to use.
To verify the COM port assigned, open Device Manager. This can be done by going to Start/Settings/Control Panel, open System, then on the Hardware tab, click Device Manager.
Look under Ports (COM & LPT) and make sure you see "Prolific USB-to-Serial Comm Port (COM #)". This Com port needs to be used on the web page.

¹ If a device is already configured, the license agreement page will not display. Use the Reconfigure Device link at bottom, then click the Change Device button to go back to the license agreement page.